-20%
2,325 RSD
1,860 RSD
Beauty therapy Sensitive
Sensitive day cream with hyaluronic acid 50 ml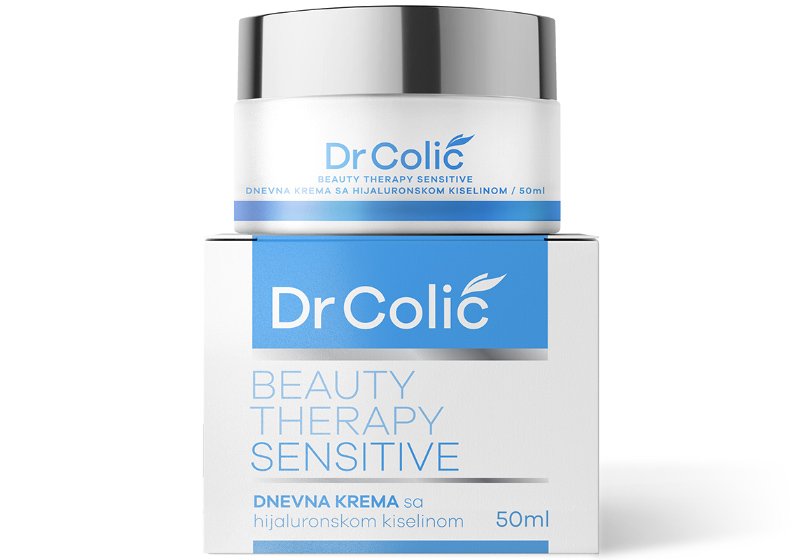 Intended for people with highly reactive skin that is dry, prone to irritation and has reduced tolerance to numerous external influences: pollution, wind, cold, heat, chemical agents, but also stress. The specially formulated Sensitive line is also intended for the care of young skin. Hyaluronic acid as one of the active components, providing a preventive anti-aging effect.
Helps prevent fine lines and wrinkles on the face and neck. Argan oil, beta glucan and hamamelis soothe and stimulate the natural regeneration of the skin. All-day hydration creates a healthy barrier against dehydration and loss of elasticity. For all skin types. Also suitable for sensitive skin.
How to use
After cleaning your face, gently massage the cream on the face, neck and cleavage.
The use of Dr Colić Sensitive Beauty Therapy day and night creams strengthens the skin's immunity and defences. Sensitive skin is not a dermatological diagnosis, but it requires special care conditions and special purpose cosmetics.
Ingredients characteristics
Sodium Hyaluronate (Hyaluronate acid) is found naturally in the skin; over the years its production is reduced, the skin becomes dryer, dehydrated, more prone to wrinkling. Hyaluronate acid serves as a natural water reservoir between cells and retains an amount of water that is 1000 times greater than its mass. Gives the skin moisture, making it softer and giving it more hydration and radiance
Glycerin - plant based, and protects the skin from loosing moisture.
Beta Glucan - an ingredient with a soothing effect, is used to restore the damaged hydrolipid barrier of sensitive skin. Glucan acts in two phases via immune modulating peptides, by activating fibroplasts. The first phase is the activation of NF-1 which acts on the production of collagen which maintains skin elasticity and prevents the formation of wrinkles. The second phase is the activation of NF-kappa-B, a production of cytokines that modulate skin immunity.
Argania Spinosa Kernel Oil (Argan oil) - the most valuable and high-quality argan oil is obtained by extraction from the seeds of the tree Argania spinosa, which grows only in southwestern Morocco. It is also known as "Moroccan gold". Prevents premature skin ageing and wrinkles. Protects the skin from drying out and losing elasticity, it becomes softer and tighter. Argan oil contains an exceptional amount of essential fatty acids, including linoleic acid (Omega 6) which provides protection and renewal of the skin. Essential fatty acids stimulate intracellular oxygenation and help the process of renewing the hypolipid film. This increases the nutritional content of skin cells. More importantly the skin fights against drying out and the loss of its elasticity, which are factors that cause the appearance of wrinkles.
Tocopheryl Acetate (Vitamin E) - binds free radicals, accelerates cell renewal and oxygen metabolism in cells. It has a strong antioxidant effect.
Hamamelis Virginiana Distillate - has a soothing, anti-bacterial and anti-inflammatory effect. Improves skin structure.
Ingredients
Aqua, Cetearyl Ethylhexanoate, Caprylic/Capric Triglyceride, Glycerin, Polyglyceryl-3 Methylglucose Distearate, Glyceryl Stearate, Beta Glucan, Argania Spinosa Kernel Oil, Tocopheryl Acetate, Hamamelis Virginiana (Witch Hazel) Extract, Cetearyl Alcohol, Phenoxyethanol, Ethylhexylglycerin, Cetyl Alcohol, Parfum, Sodium Hyaluronate, Carbomer.
Related products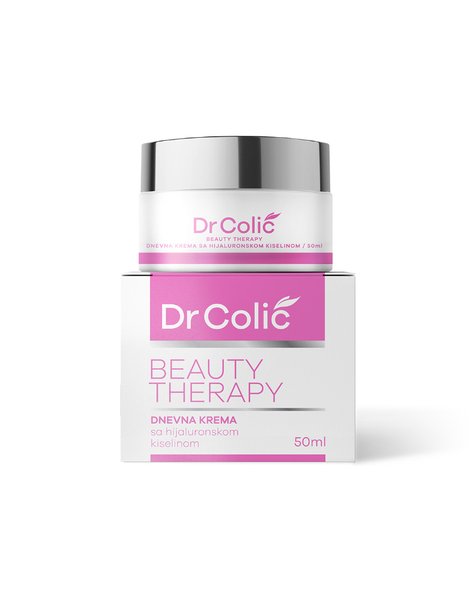 Beauty therapy
Day cream with hyaluronic acid 50ml
2,625 RSD
2,100 RSD
-20%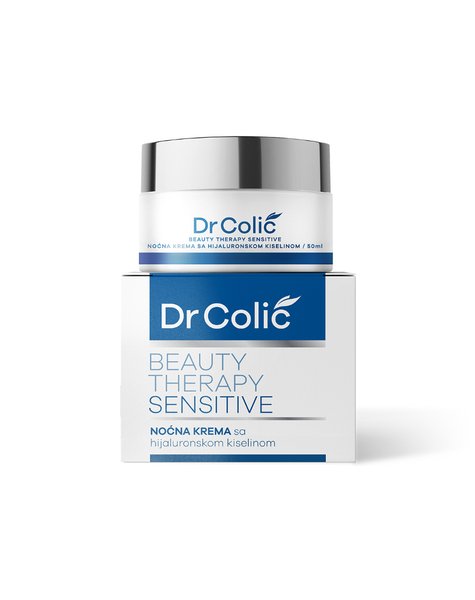 Beauty therapy Sensitive
Sensitive night cream with hyaluronic acid 50ml
2,400 RSD
1,920 RSD
-20%